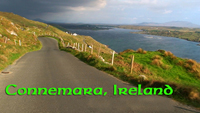 Why not bike tomorrow in Maine, or Ireland, or Hollywood, or Scotland? Our Indoor Cycling Scenery DVDs and Videos, filmed all over the world in beautiful locales, can aid in ending exercise boredom. And, no matter which version of an indoor exercise cycle you utilize, upright or recumbent, with our Virtual Experience Indoor Cycling Scenery DVDs and Videos, there is no chance of being hit by a car, attacked by a dog, taking a spill on uneven pavement, or caught in a sudden downpour! On a personal note, we just returned from four weeks filming more Cycling Scenery DVDs and Videos in Devon and Cornwall in the UK. While filming, we discovered that the narrow twisting roads found all over the UK, plus the high speeds of the passing cars and trucks, can make cycling extremely hazardous. Indoor Cycling is so much safer and more convenient!
A recent customer wrote: "Five years ago I was critically injured while biking. I have had numerous knee and facial surgeries. I lost all the ligaments in the left knee when I got staph after the third surgery on the left leg. I can't play hockey, ski, or run anymore but I can still bike. Thank God. Your videos are a blast and far safer. Thanks, Mark J."
Customers tell us over and over that our Cycling Scenery DVDs and Videos make the time spent exercising pass quickly, enabling them to exercise longer that usual, lose weight, and stay fit! Over 60% of our customers return to purchase more of our Indoor Cycling Scenery DVDs! In fact, here's a recent email from a customer:
"Dear Sirs: Awesome product! I own a Spin studio and just used the video for my true road cyclist (Orange County Bicycle Club) and they we're floored by the wonderful technigues used to record. We have been watching crappy vids in basements for years and this was a delight to watch alone and a great ride when added to our Spin room 50 plasma and my music. Thanks I have purchased all 4 bike vids and await new releases. Mike, Cycle Fitness Center"
VITA Digital Productions specializes in traveling the world to film Indoor Cycling Scenery DVDs for all types of Exercise Bikes, both upright and recumbent. We've already filmed Cycling Scenery DVDs in Ireland, Scotland, Devon, Cornwall, Maine, North Carolina, Hollywood, and Nova Scotia, and we are constantly filming more in scenic locations all over the world.
Please check our DVD Catalog periodically because we are constantly adding more Cycling Scenery DVDs and Videos to our extensive catalog.
And all of our Cycling DVDs are also available as 720P High Defintion Downloads for your computers, laptops, iPads, and even large screen tvs.